If you zoom into the Great Lake on a map of Tasmania, and then find Liawenee on the western shore, you should also find a road heading off from there towards Lake Augusta.
If you then zoom in even further you'll find a little 4WD track heading off north through Lake Augusta and out the other side into the middle of nowhere …
That's Pillans Lake Track, and that's where Oliver and I headed off to ride today.
This had been one of those rides that took a long time to get to.
It was also a ride where everyone that had ridden it unanimously agreed on one piece of advice:
DON'T RIDE IT!
Descriptions of rocks and pained bodies were uttered through words and eyes that, even months or years after the ride, glazed over with the painful memories of the ride. It was like talking to soldiers returning to a memory of a battle best forgotten.
I tried to tell Oliver this, but he was undeterred and so I rationalised going on the ride on the basis that it had only been three people that I knew of who had ridden this track – and two of them had done it on hard tails, so maybe our full suspension all-mountain bikes would turn those rocky tracks into smooth, buttery trails.
That, and the fact that it was somewhere I hadn't ridden were enough for me …
So, on a slightly overcast Sunday morning we found ourselves parked on the lake bed (the trail is only open when the lake is low enough to allow access), bikes out and ready to go and see what we should see …
Head towards that hill.
First impressions as we crossed the lake bed weren't great, but nor were they desperate. Sure this wasn't a track you could just cruise along on cruise control, but with a bit of sensible route choice the riding was possible, even fun.
Even as we left the lake and started up the first little climbs, we could see why people described the track as rocky, but it was ridable and there were none of those "oh oh this is a mistake" thoughts going through my head.
As we pulled up to Allison's Hut, about 4.5kms into the ride, I was completely convinced that the horror tales we'd heard of broken bodies and shattered souls was simply due to poor bike choices and inexperienced riders.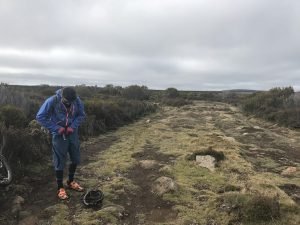 Not too bad at all.
It might not be flow nation, but it's ridable.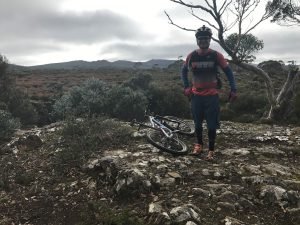 On top of that first hill seen at the start.
Rough and Rocky.
Allison's Hut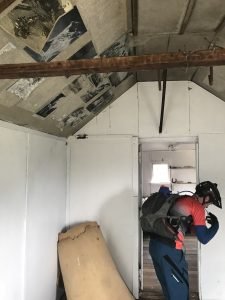 Take the time to check out the roof art inside ..
I have only the broadest memories of the next section of the track around to the junction to Kerrisons Hut No. 2 and those memories were all good.
My recollection was of challenging trail interspersed with easier and fun sections and an increasing kaleidoscope of views and flowers …
We didn't go all the way into Kerrisons Hut No. 2 instead taking a turn north to first get out to Hut No. 4 on Pillans Lake, with a plan (later abandoned) to visit on the way back out.
The personality of the trail changed really quickly after this junction, going from rocky, but easy graded, riding to suddenly becoming yo-yo like with lots of short, but sharp, climbs and drops.
Perversely as the views got better, the riding got harder and harder.
Somewhere along this section, my enthusiasm and energy for the ride started to seep away and I found myself pushing up more and more of the little climbs.
Those rocky tracks which had seemed such a hoot to this point … well they started to irritate me as I had less and less of the rapid surge-energy needed to push through or over them.
However we still had enough energy to push on for another couple of kilometres past Hut No. 4 when we found an unexpected trail continuing on into nowhere, but it just seemed to keep going and going and my energy petered out before it did.
Back at Hut No. 4, we met a couple of the owners who were in residence (it is a private hut that is locked) and so we had a bit of a natter with them as we ate our lunch on a nearby rock overlooking the lake and they prepared to head out in their four wheel drive.
I wasn't looking forward to the ride out (so rocky!) and so after lagging further and further behind Ollie for the first kilometre or two, I suggested he take off and go and check out the detour to Hut. No 3 (also a private hut) near Lake Field and that I'd just meet him at the junction.
This worked out well and gave me a bit of a chance to recharge slightly as I waited for him.
Then we headed back, and I have to admit, the ride back became a bit like hell.
All those trails that had seemed fun and challenging on the way in, well they must have sprung up an extra thousand rocks per kilometre, because I felt that most of the ride out was like riding along a rocky stream bed, and I don't recall the word 'fun' entering my mind once.
To say I was glad to get back to the car would be the understatement of the century.
It had gotten cold, and it had been a long day (we'd been out there for six and a half hours and I'd only ridden 39kms), but I was still a bit surprised when Oliver, who seemed to be taking it all in his stride, said what I'd be thinking … this isn't a ride he'd be coming back to ride again.
In fact, as we quickly packed up and headed our separate ways, I think we would both give the same advice if someone asked us about heading out here for a ride:
DON'T RIDE IT.
Epilogue …
It's amazing how quickly a change of clothes, a coke and a warm car can turn your thinking around.
By the time I had gotten to Deloraine I was already well into planning my return to the Lake Pillan Track.
In winter, with a nice thick cover of snow on the track and on the fat-bike of course.
I just know Oliver will be in when I suggest it to him …