As I've probably mentioned umpteen times before, I'm a bit of a jack-of-all-trades when it comes to work and because of this I've worked on some pretty interesting and challenging projects in my career from finding Alternatives to 1080 poison to cycle tourism and defence strategies.
Right now I'm working on what has turned out to be one of the most intellectually interesting and morally satisfying projects of my career – helping shape our future public transport system …
And while I could blog about that topic all day, and with great passion, I better not as it might step over the 'work' line, and instead I'll use this background as the preamble as to why, after driving Kim back down from Wynyard to Hobart on Sunday (see previous post), I found myself driving back up the same highway the next morning to spend a week sitting on buses (as part of a larger team) counting and interviewing users to better understand the pubic transportation use in the region (well Burnie and Devonport at least).
The thing that really blew me away about this trip is just how much I enjoyed the cycling in Devonport and, if it doesn't step over that work line, how perfect Devonport would be as a cycling city.
Despite the quiet groans from some of the team, I managed to wangle getting my folding bike into the back of the car so I could get some riding in while we were up here, and this became a double bonus as we ended up staying at the Edgewater hotel in East Devonport (just near the Spirit of Tasmania ferry terminal) meaning that as the two vehicles we had were often shuttling the team to and from the bus depot to join early morning shifts, the only way for me to get into Devonport for my ritual morning breakfast at the Laneway cafe …
Laneway Cafe Morning Strategy Session
Just for the record – my recommendation is the Bircher Muesli – AMAZING.
was to either ride there, which was about a 5km ride out over the bridge …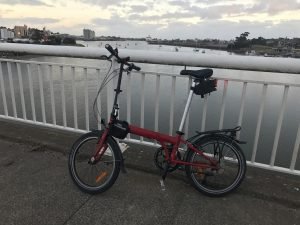 Riding over Devonport Bridge to Breakfast
or I could catch the 'Spirit of Devonport' ferry if I had a later morning start which made it about a 600m walk (or ride) …
It was just $2.50 to catch the Spirit of Devonport ferry across the river from East Devonport to Devonport (I reckon I did about 8 crossings in the week) and from the ferry terminal pretty much all of Devonport is accessible within a safe and fairly easy cycling distance from the completely offroad river and coastal shared used path.
What's even better was that there was excellent signage along most of the route, and the local council has even put information on their signs allowing you to download spatially enabled versions of the map onto your smartphone (using Avenza Maps) so you can always see exactly where you are.
An evening ride out of East Devonport – watching the Ferry Depart,
Good signage at the entrance to the bridge for cyclists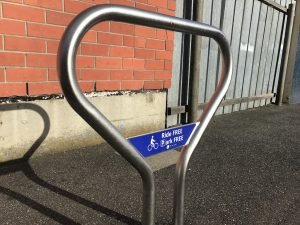 Cool parking for cyclists outside the cinema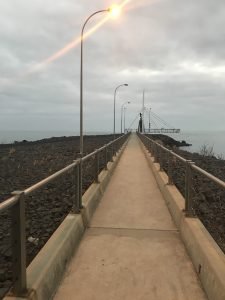 Early morning ride (and you can check my strava – I didn't ride out onto this jetty as it is no cycling)
Path past the lighthouse
Exploring the back trails behind Don College heading to the Aquatic Centre
Signage
Heading to Sawdust Bridge
I usually only had an hour or less for my ride, so my longest ride was only around 25kms and most of my riding was on off-road paths.
As I often do as I cycle, I was however inspired to dream …
I remember, towards the end of the week, sitting over breakfast (yes – at the Laneway) after one of my rides frothing with excitement as I espoused my visions of kids heading en masse from their schools down to the ferry and then riding home, of buses with bike racks, and electric bike hire schemes and ferry loads of cyclists from Melbourne disgorging from the ferry on Saturday morning for a weekend ride in Tassie … I had dreams of Devonport as a cycling utopia, a little Amsterdam.
I could, however, tell that my vision wasn't getting much traction as I saw the infectiousness of my own excitement defeated by the realities of what others thought could be done or would be embraced.
But that's OK.
I ride because it allows me to dream, I work where I do and do things like write this blog because maybe, just maybe, they allow me to do something small to help deliver on parts of those dreams, no matter how small that contribution may be … and I'm good with that.
But just think about it yea – Devonport – The Cycling City.
It's got a ring to it.