We were expecting James and Rhys to come in some time on the seventh to do some work on the jetty, and as they were bringing in fresh meat, chips and cold beers that we'd left with them in Strahan, we were all very keen to see them arrive.
There seemed to be unanimous agreement around our morning discussion in the hut that we should head down to the jetty around 11am to see if they (and our food) had arrived.
So just after 11am, I told the guys it was probably time to head down to the jetty and wandered out and pulled on my smelly, wet gear one last time.
It was as I was lacing up my shoes that I realised that there had been no other movement in the hut, and soon after this I think it dawned on me that [erhaps when there'd been agreement that 'we' should go down to the jetty, there were three people in the hut thinking "you" and only one of us thinking "us".
So off I went by myself, to wander down the last unexplored section of track – the bit out to the jetty which we had previously shuttled past on the runabout.
There was a reason why this section of track wasn't used. A reason I discovered as I disappeared waist deep into mud and sludge in a very overgrown section of track …
But it was only a short section, and while it felt forever it in fact took less than ten minutes to find my way down to the jetty …
The very unrepaired and very deserted (as in no rangers and no beers) jetty …
I hung around for around an hour hoping and praying that the rangers would turn up (mainly so I didn't have to head back up that track) but they didn't, so I trudged my way back through the mud to tell everyone that we had at least one last pasta lunch to get through before food salvation arrived.
The rangers did turn up that afternoon, and Bob heard them hammering and banging away, so Tony, Tyrone and I headed down the track one last time to see if we could help out …
Turns out that many hands make light work, and a few hours later we had a new jetty in place …
Before
And after.
And more importantly the beer and BBQ going …
And that was our trip done.
The next day we packed up at Frog Lodge, did one last shuffle of bikes and gear down to the boat and by late morning we were sitting in Strahan drinking latte's and eating cake …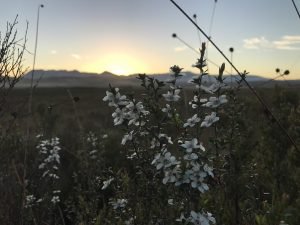 One last sunrise
Strahan.
The end …

… well it would be, if on the way back we hadn't heard about another remote track that needed to be ridden …

Let's hope that turns up here in a few months time.