For most of you, the detailed story of the return trip would just be boring, but for us at that moment when we turned around, well we were only half way through the trip and we knew that we now had three days of retracing all the track we had ridden to date, and even then we'd now get back to the hut a day early, so would be stuck there two nights waiting our boat ride back to civilisation.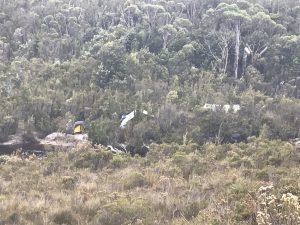 Looking at our small camp as we came back to the river
Why, you might ask, if we had a spare day, did we turn around?
The answer's both simple and complex.
We were all tired, and in an exploratory trip like this we were all trying to balance the risks and the rewards of carrying on in a very uncertain environment.
If we'd known all the unknowns at the time, we may have done things differently and we may have gotten to the coast.
If, for example, we'd known about the ford south of the Wanderer River when we'd first got there, we may have just crossed there straight after lunch, and maybe pushed on for a long day south (another 4 or 5 hours) to Wart Hill Camp.
If we'd done that, we could have walked out to the coast for the day, even camped there the night, and (most probably) still had time to make it back for our lift out.
If only we'd known.
But we didn't know, so we made the decision we did.
As it turned out, the bad weather forecast never really showed up (except a lot of rain the following afternoon) and in fact we had quite hot, clear conditions for the next two days (when we also discovered how lucky we'd been with the cooler weather and lack of march flies to that point).
The riding also seemed to be a lot easier and more fun on the way back (although our travel speed didn't seem to improve greatly) and we definitely all agreed that if we did it again (albeit there was only one of us (me) even considering coming back here again) the smart plan would be to get dropped in down south at Copper Creek or Veridian Point and ride out towards Birch's Inlet (after spending a few days exploring the coast). We all agreed it would be wise to get dropped north of Lewis River (so not at Elliot Bay) given we didn't know whether the Lewis could be crossed or not.
There was so much fun and good riding over those three days, and I'd love to share the tales in full, but some things you just have to be there for, so instead here's a bunch of photos of our travels back North …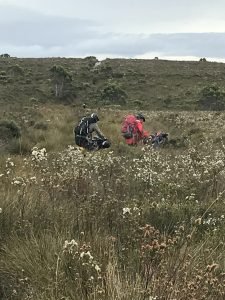 Leaving the Wanderer River, heading back north
It is a track.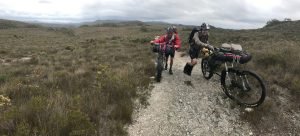 Did I say easier?
Back at the airstrip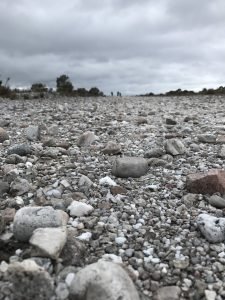 Preparing for take off …
I should so put a strava sprint section on the airstrip …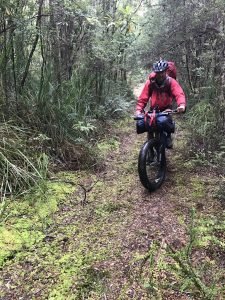 Hedading back down to the Conder River
A rut.
Breakfast by the river – notice the handeless spoon.
I'd like to say I'm hardcore on the weight, but truth is it fell apart.
Rusty chains
That's not a rut, this is a rut.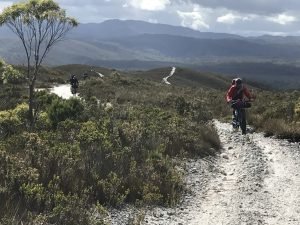 Moments of joy
Having some fun.
Fish for dinner?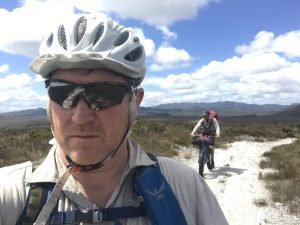 You don't see many rambler selfies!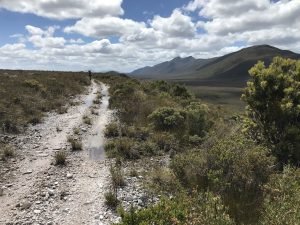 More riding joy on a sunny day.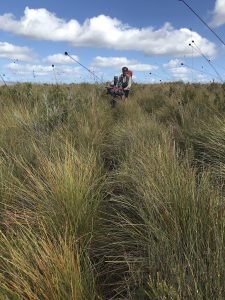 The last mile …
I think we were all ready to be off the track by the time we pulled into Frog Lodge, and it was a joy to pull out some of the beers we'd left there, which alongside some nut mix I'd carried all the way down and all the way back, made for a very fitting end to our ride.
We didn't get back completely unscathed: Bob was feeling a bit sensitive and sore on the last days riding and Tyrone was reduced to a single gear after his derailleur packed it in, but with that said, we were lucky to come out as unscathed as we did.
We had two nights to kill here, so lots of time was spent cleaning and drying gear and just wandering around taking photos and chatting.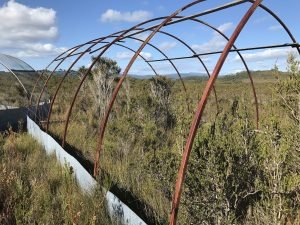 The old aviaries
And that would be the end, if there weren't a jetty to be built which I'll polish off in the last post.